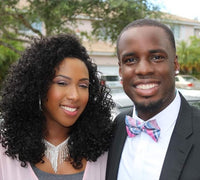 Welcome to JSFequiere
JSFequiere was created to motivate and push individuals and entrepreneurs who would like to make an impact in life that cannot be erased. We understand that there are ups and downs in this everyday journey called life and as you step out, people may not see or understand your vision nor support your dreams. We are here to encourage, empower, and enrich you as you are on your journey to fulfilling your dreams and help you find balance as you pursue your purpose.
We are Joshua and SueAnn Fequiere and we are excited to have the opportunity to serve this generation and our community as leaders, motivators, life & relationship coaches. 
More
"Our mission is to encourage, empower, and enrich the lives of others".
Testimonials
I've had many dreams but never achieved any because of fear. After listening to Pastor Josh and SueAnn segments on fear, it stirred up something in my soul. I decided then to let go of fear and achieve everything I ever dreamed of and that's when I started working towards a new career and also birthed my business. I continued to follow their JSFequiere YouTube channel (#Timeout and the F.I.R.S.T) which has not only personally blessed my life, but also my marriage. They spoke to everyday struggles that my husband and I have faced. We would watch together and discuss the tips and suggestions that Pastor Josh and Sue offers. Overtime we found that this has strengthened our relationship and we encourage our friends and family to watch as a couple. Pastor Josh and Sue are not only informative but also entertaining and relatable.

Taeko Bedeau
Testimonials
SueAnn and Joshua Fequiere are AMAZING examples of what it means to be in a Godly marriage. They have encouraged my husband and I over the years and helped us to see a real life example of what it means to be partners in a marriage while keeping Christ at the center. If you need Godly advice to help you in your Christian relationship, get in touch with SueAnn and Joshua as soon as possible. The Lord speaks through this couple in a mighty way, and I praise God they are sharing their gifts with the world. 

Stephanie Fequiere
Josh and Sue have had such a positive impact on me, especially since Josh, became the Youth/Young Adult Pastor. He has shown me how a man of God is supposed to use the gifts that God gave him while still being a loving father and husband. My wife and I strive to have open communication like Josh and Sue. We have watched many of their Dating/Marriage advice videos and have been trying to implement them into our relationship and without a doubt they have helped push our relationship to the next level. 

Errol and Theisea Joseph
CHECK OUT OUR SWAG!!!
We got MERCH that will leave you feeling ENCOURAGED, EMPOWERED, and ENRICHED.
Testimonials
What can we say, Joshua and Sue Ann have blessed us tremendously. Being extremely helpful not only to our spiritual growth but transforming our marriage as well. To be quite frank at times we hesitate to reach out knowing how immersed and invested they are in their business, as well as growing in every area possible. But whenever we do, it isn't at all a surprise that the energy and consistency remains the same as if they never stop working. They are always there when we need them, providing Godly insight on whatever it is we are struggling with or seeking. They never stop striving, they never stop pursuing, constantly persevering to execute beyond the average standard. We've become absolutely in love with their work ethic, confident because their influence of greatness has greatly impacted not just us but many others around. We now realize even more that there is simply nothing they cannot do. It's pretty evident that they both have a very strong relationship with God, seeing that they are incessantly shining with love.

The Chambers
FOLLOW US ON SOCIAL MEDIA
Testimonials
SueAnn and I have been friends, sisters for over 19 years. So to write a BRIEF summary of the impact or influence she had on my life is a bit challenging. I am going to highlight two major milestones in my life where both Josh and Sueann had a major impact in my life.
 Getting married - they hosted a bridal shower for me and they both took time out of their busy schedules to attended my wedding ceremony in Jamaica. Something to note, they were not just spectators at my wedding they showed that they were family...they were involved in the highs and lows. Thank you for your unwavering support.
 The Birth of my baby boy- I am still forever grateful that you both came to the hospital to spend time with me...although you were not able to come to the room Josh, due to COVID rules...Marlon and I really appreciated you waiting in the car with the kids while Sue and I spend some time together. Thank you SueAnn for the soundtrack that helped made my labor process easier!

Loriann Fleming
There truly isn't enough words to describe how blessed I am to have Pastor Josh and Sue in my life. From life coaching through the Timeout videos to prayers for anything you can think of, the Fequiere family is truly an inspiration. I would not be living out my God-given purpose today if it wasn't for the guidance and support from the Fequieres. They truly have an anointing on them that is unmatched! And the best part about them is that they always make you feel like you're speaking to someone who truly cares and understands. I thank God for them everyday and you will too after you get to know them.

Wesly Giordany